The
Illinois Society of Oral and Maxillofacial Surgeons
is a professional membership association in the State of Illinois. ISOMS serves its members, and indirectly, the entire community they serve primarily by offering a unique Office Anesthesia Evaluation program. This is a peer-to-peer on-site program designed to review office equipment, credentials, procedures, policies and even some staff. Members are required to undergo an evaluation upon application for membership, and every five years thereafter. The ISOMS Anesthesia Committee and the Executive Council set the rules and standards for the evaluation process. It is considered by most members to be our most important and unique activity.
ISOMS also provides periodic educational programs for members, and is an approved CE sponsor, by the Illinois Department of Financial and Professional Regulation.

Mission of Mercy Volunteer Registration is Now Open!
Currently, only 340 volunteers have signed up to volunteer at the 2022 Mission of Mercy
.
We need the talent of more than
1,000 volunteers
to make the Mission of Mercy a success. The goal is to provide $1 million in free dental care to 2,000 patients in two days, concentrating on exams, cleanings, fillings, and extractions.
Please, consider volunteering
.
Find out more by clicking here
. If you cannot, please spread the word.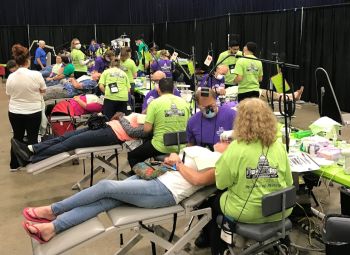 The 2022 Illinois Mission of Mercy is scheduled for July 22-23 at the UW Health Sports Factory in Rockford, IL and registration is now open!
You may register here:
https://www.rsvpbook.com/2022ILMOM
The primary hotel block is at the Embassy Suites in downtown Rockford. This room block is almost full! The room rate is $159/night +tax.
We also have a block at the Radisson Hotel and Conference Center. The cost is $119/night +tax. The reservation link is at
https://www.radissonhotelsamericas.com/en-us/hotels/radisson-conference-rockford
with promotional code "MMIL22".
The Rockford Mass Transit District is providing a shuttle service from the Radisson to the UW Health Sports Factory, for those of you who wish to stay there.
Please check the Mission of Mercy webpage if you have general questions. If you need help registering or have specific questions, please email Sarah Jensen,
sjensen@isds.org
or Danielle Williams at
dwilliams@isds.org
. You may also call 800/475-4737.
Because it's been four years since the last IL MOM, all of our stored anesthetic has expired and we are in desperate need of:
Lidocaine, Articaine, Mepivicaine, Marcaine
Please bring your donation, along with your name, email, phone number and license number, to the ISDS Foundation booth at the Capital Conference. Thank you in advance for your donation! If you cannot attend Capital Conference and would like to donate, contact Sarah Jensen
sjensen@isds.org
.
Fellow Members,
Michael J. Karakourtis, DDS, is a long-time member of ISOMS and he has come forward with the following request of his ISOMS colleagues and friends, in support of Ukraine. His request is coupled with that of his colleague, Andrew W. Browar, DDS, a periodontist. His message and plea for humanitarian assistance is on behalf of the citizens of Ukraine. (Dr. Browar can be reached at
healthysmile@msn.com
.)
— Coleman J. Spector, DDS
The Tools and Supplies Needed to Save Faces
As you know, Putin's war on Ukraine is affecting each of us directly or indirectly. The outpouring of support, both materially and financially is substantial, including medical and surgical supplies.
The Ukrainian Medical Association of North America (UMANA) has recently sent a 50T shipment of medical devices, instruments and supplies. However, there is a paucity of supplies and equipment for cranio-maxillofacial trauma, which is considerable.
Oral surgeons out in the field are direly requesting CMS supplies and equipment.
KLS-Martin Germany has been VERY generously provided many supplies so far, but they are still needing 2.0 to 3.0 mm reconstruction plates, Twist drills, Screws (especially 2.0mm x . . .)
PLEASE CONSIDER DONATING. THIS IS A VERY SPECIFIC APPEAL FOR UKRAINE OMS.
The situation on the ground is fluid. Items will be shipped to Lviv, Ukraine and then distributed to hospitals in Ukraine via tested routes. If necessary, items will be shipped to Poland or Lithuania then into Ukraine.
Special arrangements have been made with KLS-Martin USA for products.
The Ukrainian Medical Association of North America (UMANA) Foundation is a 501-c-3 charity and can accept donations in the effort to purchase necessary supplies for Oral Surgeons to treat cranio-facial trauma for victims of this war.
Cash donations can be made to the Foundation. Please specify CMF-UKRAINE in the remarks box -
https://umana.org/index.php
Larger donations can help purchase specific sets of supplies, e.g.
2.0mm recon plate set $2854.84
2.5mm recon plate set $3036.30
bulk 2.0x11mm screws (50) $2,197.86.
KLS-Martin USA is providing these items at 60% discount to retail
God bless you for your consideration and support.
Andrew Browar, DDS
630-476-3737
healthysmile@msn.com
Click here:
UKRAINE PROJECT
2022 Dues Renewals
Yes, it seems "different" to receive the ISOMS dues statement for 2022 by email, but that is the new route! Our bookkeeper/accountant has set up a new billing method and we hope to reduce the flow of paper in Illinois accordingly. You now have the option of paying directly, electronically. Of course, paper checks can still be accepted. A few members have not updated their email addresses with us…please do so whenever you change your preferred address. Thank you!
As noted in our January newsletter, at the Annual Meeting in 2021, your AAOMS colleagues approved a new policy. A question will be added to office anesthesia evaluations so members can respond with respect to their patients who undergo outpatient anesthesia. Maintaining a log will help. The log should contain the age of the patient, the type of anesthetic (GA with planned airway, deep sedation/general anesthesia, or moderate sedation), and any complications including 911 calls, hospitalization, organ damage or death. Beginning in 2023, a question about maintenance of such a log/record book will be added to the office anesthesia evaluation form. Maintaining a log will facilitate your membership renewal in 2023.
Click here
for a suggested 2-page AAOMS anesthesia survey that you can use for the 2023 evaluation year.
ISOMS Education Program & Annual Meeting Held
November 6, 2021 — ISOMS members enjoyed a full day program held at the Hilton Chicago/Oak Brook Hills Resort, featuring five speakers from the University of Illinois at Chicago, who addressed topics from Covid-19 to HIV, bacterial resistance in oral cavities, and other topics addressing infectious conditions. Many thanks to our Program Co-chairs, Drs. Leslie Heffez and James Vaiana. The busy day began with a meeting of the Anesthesia Committee, chaired by Dr. Jay Bergamini, with an agenda that addressed some changes to the current anesthesia evaluation form, to take effective January 1, 2022, and certain policy changes that will be incorporated into ISOMS policy and on the evaluation forms. Changes will keep ISOMS in compliance with AAOMS policies. (New evaluation forms will be posted on our website by January 1, 2022.)
Attendees seemed to enjoy the camaraderie long absent due to the Covid pandemic, which has kept us apart for too long. Turnout was lower than is typical for our fall meeting, as people cautiously re-enter a world that once openly encouraged friendship and fellowship and face to face conversations. Our next meeting will be in March 2022, and it will be the biannual ACLS/BLS Training program. Members and staff of members will be welcomed.
Although there have been some proposed changes to the Bylaws, they could not be voted on at the meeting on November 6 due to a quorum for voting not having been met. The Executive Council will remain in place, until voting can take place at a future meeting. We hope to bring forth any changes in March.
AAOMS Anesthesia Resolutions for Members

A number of resolutions were voted on at the AAOMS House of Delegates meeting held in Nashville in September 2021, including several that apply to anesthesia policies. ISOMS members received some details in our October newsletter. Changes will include the creation of a new survey that members must complete to gather data related to outpatient anesthesia in the OMS office. The survey will be incorporated into the Office Anesthesia Evaluation Program beginning in January 2023.

In addition, effective in January 2022, all members must keep a log of patients that undergo outpatient anesthesia, with specific details. Also beginning in January 2022, offices must conduct and record quarterly team mock emergency drills with staff and maintain a record of having done so, including specified recorded items. Details will be provided to our members periodically, through our member newsletters.







ISOMS Statement Regarding COVID-19 & OMS Practices
While we do not make any mandates and leave the care of patients at the discretion of each individual surgeon, we do support recommendations from the CDC (Centers for Disease Control & Prevention), IDPH (Illinois Department of Public Health) and the American Association of Oral & Maxillofacial Surgeons (AAOMS).
Watch for future updates.
Use these links for more information
:
AAOMS recommendations
CDC recommendations
ADA recommendations
ACS recommendations
Surgeon General comments
External Links
:
www.aaoms.org
www.ada.org
www.cdc.gov
Anesthesia Assistant Training
Doctors are required to provide education and training for their anesthesia assisting staff. At least one member of the assisting team must complete 12 hours of qualified coursework as required by the State of Illinois.
Members can contact AAOMS about their educational opportunities and qualified programs to educate assistants. Illinois recognizes the AAOMS DAANCE program to meet the State education requirement for anesthesia assistants. The main phone number for AAOMS is 847-687-6200.
In addition, ISOMS member Robert C. Bosack, DDS, has designed and recorded an anesthesia assistant training course that meets the training requirements set by the State of Illinois' Dental Practice Act. The 14 hour course consists of 9 lectures followed by a live, hands-on, in-person guided simulation training module to be completed with an anesthesia provider. Learners can work at their own pace. Downloadable handouts can be printed.
Click here for more information
.
The University of Illinois at Chicago College of Dentistry, also offers courses that satisfy the State requirement for training assistants. Information is available through the UIC Department of Oral and Maxillofacial Surgery. Contact Maria Limon at
mlimon@uic.edu
.